Free workshops for schools
As part of the project, we offer:
up to 35 schools a free workshop with one of our visiting artists, delivered to a group of up to 30 pupils in your school. (Available on a first come first served basis)
a place on our twilight CPD sessions for teachers/art co-ordinators.  Spend a couple of hours at the Higgins with 3 working artists who deliver practical ideas using store cupboard and foraged materials, which you can take back to the classroom.
Meet our Visiting Artists
  Anne-Marie Abbate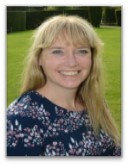 I am an artist, educator and curator. My personal artwork encompasses a multitude of mixed media including textiles, sculpture, print, collage and paint. The majority of my work uses recycled or found objects. As well as being a part-time specialist art tutor, I have delivered workshops to schools, community groups and safe houses for 12 years. The Basement Gallery and The Bluebell Gallery are two community exhibition spaces in Bedford that I have curated for four years.
Amanda Silk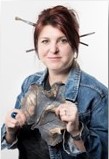 I am a ceramicist, illustrator and craft maker offering tailored sessions from my garden studio and in a variety of educational settings across Bedfordshire. I have a natural affinity to making with a variety of materials including clay, wood, metal and glass; there is a simple delight and satisfaction in saying, "I made that". As a qualified teacher I have a passion for the creative process and work with all abilities. My own artwork is influenced by the human form and natural world
Susan Erskine Jones

My mixed media work uses the cross over between printmaking and painting.  I use palette knives, rollers, rags and occasionally paint brushes. I evoke the feeling or memory of a place as I experienced it through the use of my layering of paint and collage onto paper.
Katie Allen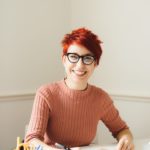 I am an illustrator who loves big bold, colourful designs of typography and quirky patterns. I work in ink, pen and pencil, and complete my illustrations digitally to add vivid colour and layers inspired by my love of printmaking.
Our Workshops
Workshops in Schools
As part of the Art Competition, our visiting artists had the opportunity to go into the local Bedford Borough schools to inspire and teach the children using mediums of artwork they otherwise hadn't been exposed to. These ranged from collages to pottery work to paintings, watercolour, Paper Mache and everything in between!
Sessions for Teachers
The teachers also got the opportunity to attend sessions designed to inspire their teaching and art classes, simply using materials already in the cupboards at school. These were hosted for Bedford Borough Schools and the teachers thoroughly enjoyed them! These sessions focused on career progression, mixing up teachers from a variety of schools, giving them the opportunity to engage with the artist and share thoughts and ideas with each other.